Cisco ha annunciato un router WiFi basato su Linux che sembra essere il primo dispositivo 802.11n dual-band clustering access point per la piccola o media impresa (SMBs). Il Cisco AP 541N Wireless access point include 802.11n, gigabit Ethernet, una forte impronta sulla sicurezza, voice roaming, e tecnologia cluster, abilitando un singolo access point per l'amministrazione di più apparati linkati tra loro.
Diversamente dal Linksys WRT160NL 802.11n-ready con Storage Link che fu annunciato a giugno di quest'anno, il Cisco AP 541N Wireless Access Point rinuncia al brand Linksys, con un obbiettivo un po' più elevato per la piccola o media impresa dove è un nuovo arrivato (Cisco offre già diverse soluzioni 802.11n per il mercato di fascia alta, come i routers della serie 800 e 1900).
Le applicazioni per il Cisco AP 541N includono mobile data, voice over WLAN, monitoraggio video WiFi, e guest access altamente sicuro.
L'azienda afferma che il router può essere usato sia come apparato standalone in piccoli ambienti WiFi, sia in soluzioni network più complesse facendo parte di una serie di apparati linkati tra loro, come per esempio i "Cisco Smart Business Communication System (SBCS).
Cisco non specifica il tipo di processore utilizzato nel router, ma ci dice che l'apparato offre 64MB RAM e 32MB di memoria flash. Una singola porta gigabit Ethernet sembra essere l'unica connessione wired dell'apparato.
Il device opera in entrambe le frequenze WiFi: 2.4GHz e 5GHz e offre un troughput fino a 300Mbps. Le tre antenne esterne presenti riescono a fornire un range di operabilità fino a 310 metri a 2,4GHz e 255 a 5GHz. Le antenne offrono un guadagno di 2,0 dBi e forniscono una copertura omnidirezionale per uffici o ambienti RF simili.
Il router è inoltre power-over-ethernet capable (PoE), questo significa che può essere alimentato anche tramite la porta Ethernet fino a 9.9 Watts. Oltre a questo troviamo anche dei LED per le principali funzioni.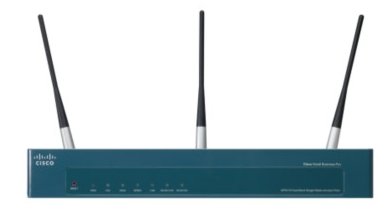 Cisco AP 541N
Cisco AP 541N - La sicurezza ed il Clustering
Diversamente dal router Linksys, il Cisco AP 541N offre tecnologia cluster, che permette l'amministrazione di più access-points mediante un punto di amministrazione unico. La tecnologia replica la configurazione e la condivide con gli altri punti di accesso, in più la gestione delle frequenze dei singoli apparati viene controllata continuamente, in modo da ridurre le interferenze.
Oltre a queste features Cisco offre anche un sistema di sicurezza più robusto che i routers Linksys, con supporto per crittografia WEP 64-bit/128-bit, WPA-Pre-Shared Key (WPA-PSK), WPA2-PSK, WPA-ENT, e WPA2-ENT. Il device include anche un'autenticazione per la compatibilità dei client, MAC address authentication, client isolation e rilevamento di rogue access points.
I tools di configurazione web-based, rendono l'amministrazione e la configurazione molto semplice anche per i non addetti ai lavori
Le altre specifiche per il Cisco AP 514N sono:
* Memory -- 64MB RAM
* Flash -- 32MB
* Networking -- 1 x gigabit Ethernet
* WiFi -- IEEE 802.11a/b/g/n Draft 2.0 compliant with 2.4GHz / 5GHz transceiver
* Antennas:
o 2.4GHz and 5GHz operation
o 2.0 dBi gain
o 360 degree horizontal beam width
o Supports 2T3R MIMO single radio module with 3 x antenna ports
* Security:
o WEP 64-bit/128-bit, WPA-Pre-Shared Key (WPA-PSK), WPA2-PSK, WPA-ENT, WPA2-ENT
o Wireless connection control, MAC-based
o SSID broadcast enable/disable
o Supports wireless client isolation between and within SSIDs
o Wireless clients can be authenticated via IEEE 802.1X
* Status LEDs -- Power, PoE, Diag, Speed, LAN, and WLAN 2.4G or WLAN 5G
* Power:
o 100 to 240 VAC; 50 to 60 Hz
o 12VDC, 1.25A
o 9.9 W max. power draw
o PoE capable
* Operating temperature -- 32 to 104 deg. F (0 to 40 deg. C)
* Dimensions -- 12.1 x 1.7 x 7.1-inches (308 x 44 x 180mm)
* Weight -- 3 lbs
* Operating system -- Linux
Lo standard 802.11n vanta un range di operabilità che è circa il doppio del 802.11g, con una migliore qualità del servizio e una banda più ampia: dai tipici 300Mbps si è passati ai teorici 600Mbps.
Cisco AP 541N - Disponibilità
Il Cisco AP 541N è già disponibile ad un prezzo di 350$.
Maggiori informazioni possono essere trovate qui [1] e nella Cisco AP 541N european main page [2], che offre link a resellers e maggiori dettagli sul prodotto