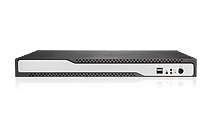 Lanner Elettronics ha prodotto un DVR (Digital Video Recorder) compatibile con Linux di fascia entry-level per scopi di video sorveglianza, che ha la capacità di registrare Sia in NTSC che PAL usando lo standard H.264.
Il VR-1208 offre una CPU Atom N270 da 1.6GHz, una porta gigabit ethernet, quattro porte USB, una doppia entrata di archiviazione 3.5, e supporta fino a sei canali di stream analogico D1.

Lanner VR12-08
Il VR-1208 è venduto come sistema di sorveglianza entry-level (quindi in una fascia di prezzo medio bassa e considerato come un apparecchio non professionale) che ha la caratteristica di effettuare videosorveglianza, analisi e broadcasting del video, con la possibilità, poi, di registrare lo streaming in digitale.
Il VR-1208 incorporta una CPU Atom N270 a 1.6GHZ, montata su chipset Intel 945GSE, un giga di RAM (espandibile fino a 2GB) e due slitte per hard disk 3.5 dotati di tecnologia SATA.
Il sistema è equipaggiato con una porta Gigabit Ethernet, due porte seriali (opzionali) e quattro porte USB 2.0.
Il sistema di Audio/video I/O include anche una porta Dual RCA che utilizza lo standard di encoding audio G.711.
Il VR-1208 viene venduto con Windows XP preinstallato, ma supporta anche Ubuntu 8.04, Fedora Linux 10 e CentOS Linux 5.2.
Il software per videosorveglianza Eyeshot 2000 EVK è già incluso nel prezzo (Windows Only).
In aggiunta però Lanner distribuisce anche un SDK ( software development kit ) sia per Linux che per Windows. Gli utenti possono controllare lo streaming video, impostare l'allarme I/O, e controllare la webcam PTZ.
VR-1208: Le specifiche
Qui trovate le specifiche:
* Processor -- Intel Atom N270 CPU 1.6GHz; Intel 945GSE su ICH7M chipset
* Memory – 1GB DDR2 400/533 MHz SDRAM via 200 Pin SODIMM, espandibile fino a 2GB
* Storage – 2 x 3.5-inch HDD bays with dual SATA II ports
* Networking – 1 x gigabit Ethernet port
* Other I/O:
o 4 x USB 2.0 ports (2 x front-facing)
o 2 x high-speed serial UARTs 16550 (optional)
o 1 x RS-485 for PTZ control
o 8 x alarm input and 4 x relay output interface (terminal block)
o 1 x D-Sub 15-pin VGA out
o 1 x dual-channel RCA audio input
o 1 mic in
o 1 x line out
* Other features:
o 3 x fans
o Watchdog timer
o Hardware monitor
o Real-time clock with Li battery
* Power -- AC 100~240V input; DC 12V / 1 Amp output; 100 Watt open frame
* Operating temperature -- 32 to 104 deg. F (0 to 40 deg. C)
* Dimensions -- 17.0 x 1.7 x 14.2 inches (431 x 44 x 360mm) ; 1U rackmount
* Operating system -- Ubuntu Linux 8.04, Fedora Linux 10, CentOS Linux 5.2, or Windows XP
A quando tutto ciò?
Il VR-1208 è già disponibile per l'orine, anche se il sito non rende ancora noto il prezzo.