ColdFire Freescale - il microprocessore della Freescale

In un momento dove i desktop computer stanno tracciando la loro architettura relativa alla sezione grafica il settore embedded stenta a trovare una vera soluzione accettata da tutti. Lungi dal voler identificare una nuova strategia si vuole presentare una architettura che, seppur semplice, e' in grado di rispondere pienamente alle logiche della grafica 2D.
Il progetto nel seguito descritto si compone dell'ormai universale ColdFire Freescale abbinato ad un chip grafico di tutto rispetto. Lo schema trae vantaggio dal processore ormai noto a livello universale sia per versatilità che per performances, si tratta dell'ormai noto MCF5206 (datasheet) della Freescale, abbinato al chip grafico MB86290 Fujitsu.
Le principali caratteristiche del processor ColdFire Freescale sono:
• 17 MIPS @ 33 MHz
• 512-byte Instruction Cache
• 512-byte On-Chip SRAM
• DRAM Controller
• Two Universal Synchronous/Asynchronous Receiver/Transmitters (UART)
• Dual Multimode Timers
• I2C-Compatible Bus
• Debug Module
• Low-Cost 160-Pin QFP Package
• Fully Static 5V Operation
• 8-bit general-purpose parallel I/O port
Le principali caratteristiche del graphic controller sono:
• Operating frequency: 100 MHz (External clock of 14.32 MHz Max)
• Host interface: Enables direct connection to a CPU (Hitachi SH3/4 or NEC V832).
• Drawing features:
• Drawing at a peak rate of 800 Mpixels per second (at an internal operating frequency of 100 MHz)
• 2D drawing functions: Point, line, triangle, polygon, BLT, and pattern drawing
• 3D drawing functions: Point, line, and triangle drawing, and hidden surface removal by Z-buffering
• Special effects: Anti-aliasing, bold/dashed-line processing, alpha blending, Gouraud shading, texture mapping
(bilinear filtering, perspective correct), and tiling
• Display features :
• Maximum display resolution supported: 1024 x 768 pixels
• Color display either with a color palette of 8 bits per pixel or directly using 5-bit RGB colors of 16 bits per pixel
• Overlaying four layers of screen, of which two lower layers can be divided into the left and right parts
• Supporting two 64x64-pixel hardware cursors
• Three-channel D/A converter integrated to output analog RGB signals
• Capable of superimposing using an external synchronization mode
• Memory interface :
• Using SDRAM as graphics memory at an operating clock speed of 100 MHz and data bus width of 64 bits.
• Capable of connecting up to 32 Mbytes (offering a throughput of 800 Mbps).
Il progetto costituisce un modulo grafico di medie performances adatto per applicazioni dove un PC standard non e' applicabile per spazi, dissipazioni, tipo di alimentazione o costo o altro ma al tempo stesso sono richieste prestazioni sia di processing (gestione interfacce) che grafiche (2D) piuttosto impegnative.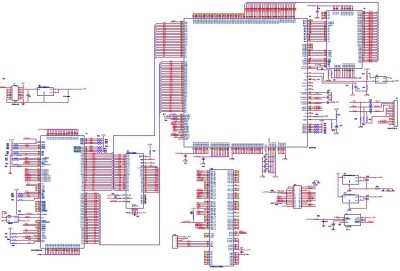 Se vuoi vedere in alta risoluzione lo schema elettrico del modulo che e' stato impiegato anche come baseline per lo sviluppo di macchine grafiche per giochi o per apparati a bordo auto vai nella sezione Download - cold-fire (ColdFire Freescale).
RICHIESTA DI CONTATTO
Se desideri maggiori informazioni su questo prodotto
Freescale, invia una richiesta ad Arrow utilizzando il seguente modulo.