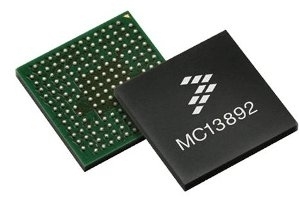 Il processore i.MX51 rappresenta l'ultimo ampliamento di Freescale Semiconductor a una famiglia crescente di prodotti multimediali incentrate sull'elaborazione ad alte prestazioni ottimizzata per il più basso consumo di potenza. Il controller LCD on-chip, l'ethernet, l'USB, e il supporto per la memoria DDR2 forniscono agli sviluppatori dispositivi integrati con un risparmio per i costi di integrazione.
Se desideri maggiori informazioni su questo prodotto
Freescale, invia una richiesta ad Arrow utilizzando il seguente modulo.
Gli acceleratori hardware come Open GL ES 2.0 e Open VG1.1 sono inclusi per permettere la grafica 2D e 3D. Il motore Multi-Standard Hardware Video Codec raggiunge la decodifica dei video HD 720p e la codifica dei video D1. Progettato per funzionare con l'i.MX51, l'MC13892 è un circuito integrato con gestione di alimentazione e interfaccia utente altamente integrati.
i.mx51 - Panoramica sul prodotto
Il processore i.MX51 caratterizza la prima implementazione avanzata ed efficiente nei consumi di Freescale del core Cortex-A8, che opera alla velocità di 800 MHz e include un'offerta aggiuntiva di acceleratori hardware multimediali come OpenGL ES 2.0 and OpenVG 1.1 e video codec multiformato HD 720p e video encoder D1. Sono supportati clock fino a 200 MHz per la DDR2 e la DDR DRAM mobile. Il processore i.MX51 è supportato dall'MC13892. Può anche essere supportato da alter unità di gestione alimentazione non Freescale.
Processore imx51 della Freescale - Specifiche del prodotto
- 800MHz ARM Cortex A8™core
- Low power multimedia
- Delivers rich graphics and UI in HW
- OpenGL ES 2.0 3D accelerator (AMD Z430)
- OpenVG 1.1 graphics accelerator (AMD Z160)
- Neon Vector floating point co-processor
- Displays up to WXGA
- Drives high resolution video in HW
- Multi-format D1 video encode
- Multi-format HD720 video decode
- Mixed signal integration - HD720 TV out and high speed USB with embedded Phy
Applicazioni i.MX51
- Smartbooks (web tablets)
- Nettops (internet desktop devices)
- Mobile internet devices (MID)
- Media Phone/Terminal
- Portable media players (PMP)
- Portable navigation devices (PND)
- Ebooks
- Digital Photo Frames
- Digital Signage
- High-End Appliances
- Printers
- High-end PDAs
- Gaming consoles
- Security & Surveillance
Riepilogo strumenti di sviluppo
Freescale offre un kit di valutazione ricco di caratteristiche (EVK) per dimostrare le possibilità dell'MCIMX51 che esegue Linux e Windows Embedded CE 6.0. Il kit di valutazione include il supporto per DDR2, SPI NOR, gestione dell'alimentazione (MC13892 integrato), NAND, SDIO, USB, Ethernet (attraverso SPI header), 2 connettori LVDS, connettore DVI-I, Mini PCIe, connector HDD SATA, connettori SIM card, e display 7" WVGA TFT LCD con touchscreen. Il kit di valutazione ha anche la gestione di alimentazione MC13892 integrato. L' i.MX51 EVK BSP fornisce i driver necessari per usare l'MC13892 e l'interfaccia utente IC e l'MC13982 fornisce le alimentazioni necessarie per alimentare l'i.MX51 con molte periferiche.
Panoramica del prodotto
La famiglia dell'i.MX51 rappresenta l'ultimo risultato della Freescale Semiconductor nei processori per applicazioni integrate multimediali. Questa soluzione è parte di una crescente famiglia di prodotti dedicati alla multimedia che offrono alte prestazioni per un basso consumo energetico. L'i.MX51 introduce diverse caratteristiche come gli acceleratori hardware integrati per la grafica 2D e 3D e il motore Multi-Standard Hardware Video Codec che supporta l'HD 720p e l'encoder D1 video che permette al core ARM di avere ulteriori processi software intensivi. Inoltre, l'i.MX51 continua a rendere il mercato industriale e generale una prerogative dell'i.MX con l'inclusione di DDR2, USB PHY, supporto I/O 3.6V, 10/100 Ethernet MAC, connettività SDIO, fino alla risoluzione WXGA con supporto TFT LCD, interfaccia camera a sensori, e velocità della CPU a 800 MHz che permette ai clienti di ridurre il costo dell'intero sistema.
Specifiche del prodotto i.MX51x
- CPU
800MHz ARM Cortex A8™core
32KB L1 (Instruction and Data cache)
256KB L2 cache

- Multimedia
Encode – D1 30fps (MPEG4 SP, H.264 BP, MJPEG)
Decode – HD720 30fps (MPEG2 MP, MPEG4 ASP, H.264 HP, VC-1 AP, DivX, RV10)
Graphics – OpenVG1.1, OpenGL ES 2.0 @ 27M Tri/sec
TV Encoder – Component, Composite or S-Video out at 720p

- Camera
Camera sensor I/F (x2)
Up to 8Mpixel @ 15fps, Up 133Mpixel/sec
Resizing, Inversion, Rotation
Color Space conversion, video/graphics combining

- Display
Up to WXGA display - 24 bit @ 60fps
Secondary Display Support

- Connectivity
High speed USB OTG w/ embedded Phy, Host HS x3
Up to 400Mbps MobileDDR, DDR2
SLC/MLC NAND Flash 8/16-bit, NAND/NOR
High speed MMC\SDIO, UART, I2C, SPI
ATA-6
3.3V support on HD, SDIO, and SIM I/F

- Security
TrustZone
AES, DES/3DES, SHA-1, SHA-224, SHA-256
Run time integrity checker (RTICv3)
Secure High Assurance Boot
Security Controller (SCC), including Secure RAM and Security Monitor
Random Number Generator Accelerator (RNGA)
Secure JTAG Controller (with electrical fuses)
Secure real-time clock
Universal Unique Identification
Tamper Detection

- Power Management
Advanced power management (DVFS, DPTC)
State retention power gating
Multiple independent clock and power domains
Supported by MC13892 Atlas Lite PMIC (Consumer & Industrial markets)
Tools di sviluppo
- MCIMX51EVKJ Evaluation Board
Basic Description: i.MX51 Evaluation Kit
Include 2 SD cards: una per Linux 2.6.28 & una per WinCE 6.0
OS's boot from SD by default
Includes the MC13892 power management processor

- MCIMX51LCD Add-on module
Basic Description: i.MX51 LCD Module with 7" WVGA

- MCIMX51EXP Expansion Module
Basic Description: i.MX51 Expansion Module with CMOS camera, TV out, Keypad, and UART
Reference
i.MX51 Freescale
RICHIESTA DI CONTATTO
Se desideri maggiori informazioni su questo prodotto
Freescale, invia una richiesta ad Arrow utilizzando il seguente modulo.