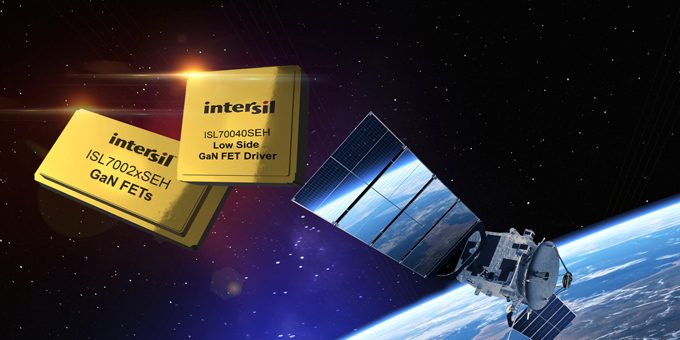 Renesas Electronics ha annunciato nuove soluzioni FET con tecnologia a Nitruro di Gallio (GaN) resistente alle radiazioni  e utilizzati nello sviluppo sia del circuito primario sia del secondario dei convertitori DC / DC degli alimentatori degli stadi di lancio e dei satelliti.
ISL7023SEH 100V, 60A GaN FET e ISL70024SEH 200V, 7,5A GaN FET di Renesas si basano sulla tecnologia prodotta da Efficient Power Conversion Corporation (EPC) per applicazioni che richiedono un elevato livello di affidabilità quali le trivelle e le applicazioni industriali ad alto livello di sicurezza. I FET GaN in classe V MIL-PRF-38535 offrono prestazioni migliori fino a 10 ordini di grandezza rispetto ai MOSFET al silicio, riducendo al contempo le dimensioni del package del 50 percento. Riducono inoltre il peso e raggiungono una maggiore efficienza energetica con una minore perdita di potenza di commutazione. Entrambi i FET GaN richiedono meno dispersione del calore a causa della riduzione degli elementi parassiti, e la loro capacità di operare alle alte frequenze consente l'uso di filtri di uscita più piccoli che raggiungono eccellenti efficienze in una soluzione compatta.
Le caratteristiche principali di ISL70023SEH e ISL70024SEH GaN FETs sono le seguenti:
RDSON estremamente bassa: 5 mΩ (tipico) per ISL70023SEH; e 45 mΩ (tipico) per ISL70024SEH.
Total gate charge estremamente bassa 14 nC (tipico) per ISL70023SEH; e 2.5 nC (tipico) per ISL70024SEH.
Radiation hardness assurance (lot-by-lot):

High Dose Rate (HDR) (50-300rad(Si)/s):100krad(Si).
Low Lose Rate (LDR) (0.01rad(Si)/s): 75krad(Si).

SEE hardness at LET 86MeV•cm2/mg

ISL70023SEH, VDS = 100V, VGS = 0V.
ISL70024SEH, VDS = 160V, VGS = 0V.

Operante all' interno dell'intera gamma di temperature militari:

TA = -55°C to +125°C.
TJ = -55°C to +150°C.